Hot Country Knights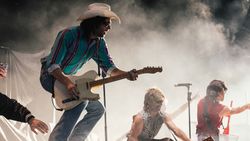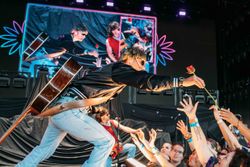 Music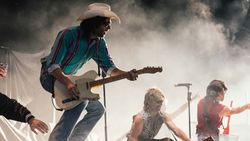 HCK
tv
Update Required
To play the media you will need to update your browser to a recent version or update your
Flash plugin
.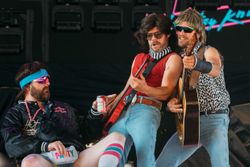 Meet the Band
Barry Van Ricky
Upon completion as 2nd chair Recorder player and staff musician for all Wrangler Country Showdown competitions in the Northeastern Kentucky area, Barry set out to fulfill his 2nd dream in life….a professional bowler. Barry was blessed with a decent average and even appeared on 2 episodes of Pro Bowling Television (PBTV). As time passed, Barry's average dwindled and he realized that he could no longer compare to the stiff competition, and much higher average as the pro's on PBTV. As Barry's average shriveled below 175, he knew that he could no longer pursue his dream of being a professional bowler and was resigned to just watching hours and hours of PBTV at home.

Barry then set out for Nashville where he met up with Doug Douglason at a local American Legion. Realizing that the call for a Recorder player was diminishing, he began to learn the pedal steel guitar. A much, much more in demand instrument. Barry learned to play the steel guitar by watching VHS tapes of old Hee Haw reruns and Pop Goes The Country
Marty Ray "RayRo" Roburn
As a young prodigy, armed with only his lucky spatula, Marty Ray "RayRo" Roburn spent his weekends competing in the Southeastern Fried Bologna Cook-off circuit. He was highly esteemed among the "Bologna Brigade," but had a surprising amount of trouble making friends in school, even though he could do a headstand. After finally winning the coveted Golden Skillet and a $385 cash prize at the '87 Crisco Slam, RayRo chose to step away from the burner while he was on top. He took his earnings straight to the pawnshop to see what he could buy. That's when he spotted what would become his new obsession, a Telecaster guitar. He played non stop and quickly rose through the ranks of his local music scene. People began referring to him as the Rick Moranis of country telecaster guitar. Well, he heard one person say that but thought it was pretty cool. A few short years later, he felt he was ready to move to Nashville and try his hand at becoming a star. After many years of getting knocked down, RayRo finally found himself center stage at the historic Ramen Auditorium, a local Nashville Japanese restaurant that had an open mic night every Wednesday. Many country stars had been discovered at the Ramen, and this night was no exception. Tina, who performed right after RayRo, got offered a record deal on the spot. With tears raining onto RayRo's Wranglers he raced home and realized he was ready for a change. He set aside his dream of becoming a star and returned to his first love, the culinary arts. He landed a job at White Castle and was soon called up to the big leagues when he was offered the head chef position at his favorite restaurant, The Olive Garden. It was there he overheard a conversation between two dudes saying they needed a guitar player for their band. It turns out the two mystery men were Big Rhythm Doug and Trevor Travis. And that band they were talking about? Well, it was a little band called the HOT COUNTRY KNIGHTS! The rest is country music history!
Douglas "Doug" Douglason
Born 8 pounds 6 inches, Douglas "Doug" Douglason set out for the bright lights of Silicone Valley at age 16, sure to be the next big thing. Known as "Big Rhythm" for his size, longevity, and steadiness of performance and working under the name "Dustin Strange," Doug immediately became a hugely below average star in the adult-jpeg-straight-to-free-download-soft-core industry. Known for his love of Country Music, he was credited with directing and starring in several new freeware pieces including, "Does My STD Burn Your Finger," and "Chatacoochie. After he won the coveted AVN Best Mustache Ride (Supporting Role) in 1988 for his solo performance in "Lonesome Savage Time," it really seemed like Doug was on his way to the top. But a defective Trojan suddenly softened up his rising career. With a pending paternity suit on the horizon, it was while watching "Did You See Yesterday's DNA Show? Want to See What Happened After the Show? Stick Around...(Part 2)," that he discovered Trevor Travis, who apparently had his own problems donning the pelvic poncho. Doug realized he had found his new partner...someone he could make sweet love to, musically of course. The big forearms and strong grip acquired from years in "the biz" made picking up and strumming the guitar a piece of cake. With his alarmingly attractive mustache and party up front and business in the back tour bus mentality, Doug realized he had found his calling. And that calling was called Hot Country Knights.
Trevor Travis
Raised by a single mother and 9 older sisters, Trevor Travis is a born ladies' man. He spent the bulk of his youth enrolled in home economics, hair styling, and massage classes before picking up the bass at age 13. Trevor's first taste of fame was on the Ricki Lake episode "Mom, You Can't Stop Me from Having Sex in the House---You Do It, Too." He caught the ear of Big Rhythm Doug in 1993 after breaking into song when he was awarded the "Most Failed Paternity Tests" honor on a later episode "Did You See Yesterday's DNA Show? Want to See What Happened After the Show? Stick Around...(Part 2)." The planets aligned in 1995 when Big Rhythm Doug treated Trevor to an Italian feast of endless salad and breadsticks, introducing him to Marty Ray Roeburn, who in turn treated them to an herbal dessert behind that fortuitous Olive Garden dumpster.
Monte 'Monty' Montgomery
Hot country Knights percussionist and drum style specialist
I was born and raised in Los Angeles California.I've always had a talent towards painting. So after High School, I moved to Paris to study painting with the famed Vincent Van Gogh. But he wasn't home. So i found myself on the streets of Paris, homeless. And it was here where i met and survived with several dogs. Pomey, Bruford, Sherrod and Kane. I quickly found out that the dogs wanted their portraits painted so I started painting their portraits and they really enjoyed them.. Dogs from miles around flocked to me to have their portraits done.. But then I realized dogs don't have money and I was hungry. At this point I was freaking starving so I decided that I needed join a band to make some money. Around the same time I landed an opportunity at a local Walmart in the photo development department. One day, a commotion at the photo counter got my attention. Two young men armed with some of the best mullets I have ever seen were trying to get some photos developed. The photos violated Walmart's code of conduct policy. They got kicked out., But I met them in the parking lot and told them that i would be probably be able to get the photos developed after hours and could for sure find a 'home' for them on this new thing called the internet. They said "that's cool" and noticed a cool set of drums in the back of my Monte Carlo. Those two, Doug Douglasson and Trevor Travis realized they found their drummer they had been looking for and invited me to be in their band Hot Country Knights in exchange for some dog portraits. I joined Hot Country Knights full time and continued to work at the photo desk part time till fame came calling.
Terotej "Terry" Dvoraczekynski
Terotej "Terry" Dvoraczekynski was born in 1974 in a small village just north of Chekhov, Russia. His father was a pig farmer (as was his grandfather and great-grandfather), so most of Terry's youth was spent helping out on the family farm - cleaning the pen, feeding the hogs, bathing the gilts and sows, castrating the boars, etc. It was hard work, especially for a young boy, but in his village there didn't seem to be any other way. His family could barely make ends meet, but once a year, his father would fire up the Warburg 353 and take him into town to see a movie. It was in 1985 that he saw the American classic, Rocky IV, with his friends from school. For the weeks that followed, all of his friends would play and pretend to be the Russian champion, Ivan Drago. But not Terry…he wanted to be Rocky the American. Back at the farm, Terry would train every day to become as strong as Rocky - jumping rope in the barn, chopping wood from the forest, lifting bags of feed over his head, and racing the fastest boars in the herd across the countryside. It was here that Terry developed his love of fitness, despite never really gaining any muscle or strength. But by the time he was 13, Terry had had enough of the pig farming life. Against the wishes of his father, he decided to move to Nizhny Novgorod and see what else the world had to offer. Terry landed a string of jobs as a fitness instructor, but it was while moonlighting as a taxi driver that his life would be changed forever. The year was 1988, and he had just picked up a new passenger from the Stringing Airport (Аэропорт Стригино). As fate would have it, this passenger was the director of the National Pork Producers Council, an American trade association based in Des Moines, Iowa, USA. Impressed by Terry's knowledge of all things swine and his love of America, the passenger gave Terry an old cassette tape to listen to while making the rounds in his taxi: Lee Greenwood's You've Got a Good Love Comin', featuring the most patriotic American song ever to be written, God Bless The U.S.A. That was all it took. Terry was hooked on America and hooked on American country music. He mercilessly played that song over and over in his taxi until he was eventually fired due to excessive complaints from his passengers. But Terry didn't care. At that point, he had saved up enough rubles for a one-way plane ticket to Nashville…Music City, USA!